Pakistan: suicide bombing in religious shrine kills at least 72, including children
Comments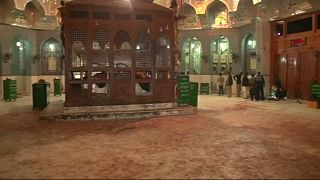 At least 72 people have been killed and 250 wounded in the fourth bombing to strike Pakistan in as many days.
ISIL has claimed responsibility for the attack, which was carried out at a crowded Sufi shrine in Sindh province in the south of the country.
Situated in the town of Sehwan, the popular shrine of Sufi saint Lal Shahbaz Qalandar was crowded at the time of the attack (February 16). Thursday is considered a particularly sacred day to pray there.
A spokesman for medical charity the Edhi Welfare Trust said the suicide bomber appeared to have targeted the women's wing of the shrine.
At least 20 children are believed to be among those who died in the blast.
Mohammad Ashfaq was among the injured.
"As soon as I entered the shrine, I heard a dreadful sound. The first thought that came to my mind was that this could not be a bomb blast but then the next thought that came to my mind was that we were dead. It was like doomsday," he said.
The only local hospital is reportedly unable to accommodate all of the wounded and the critically injured have been taken to facilities some two hours away.
Prime Minister Nawaz Sharif has condemned the bombing and vowed to fight Islamist militants.
Army Chief Qamar Bajwa gave a similar promise.
"Each drop of [the] nation's blood shall be revenged, and revenged immediately," he said in a statement. "No more restraint for anyone."
Sufism is an ancient, mystic branch of Islam, which has been practised in Pakistan for centuries.
ISIL has a small, but increasingly prominent presence in Pakistan. It, along with other radical Sunni militant groups, such as the Pakistani Taliban's factions, revile Sufis, Shi'ite Muslims and other religious minorities as heretics.