Oroville residents begin to return home after California dam crisis eases
Comments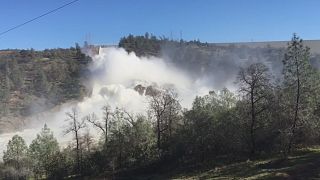 Officials in northern California have told the residents along the Feather river downstream of the Lake Oroville dam that the crisis is over and it is safe for the nearly 200,000 evacuees to return home.
Residents have been advised to stay ready for another evacuation, but although more rain is expected to fall over the next five days, engineers say the danger has passed.
"I am concerned. I mean I'm OK with going home. However I'm concerned about them not being as truthful as they should be. I don't think they're being as truthful. I think they're lifting it just so people aren't freaking out and getting upset," said one woman.
These doubts appear to shared by many.
"My plan is to stay here. Upcoming storm. I'm not trying to risk traffic, being stuck if it floods. I'm safe where I'm at," said a man not keen on returning to Oroville.
Repairs continue on the dam's two damaged slipways, which are under less pressure as the water level in the lake falls, and the area can now access federal funds after President Donald Trump declared an emergency in the state.