Sioux tribe welcomes halt to N.Dakota pipeline
Comments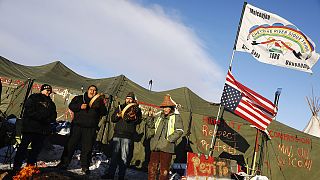 Native Americans in North Dakota are celebrating what the've called an "historic decision" not to allow an oil pipeline to cross under a lake near their reservation.
The US army which controls the land has decided not to grant a permit for the controversial project. Instead it is to look at alternative routes.
Standing Rock Sioux Tribe Statement on ACOE Declaration to Not Grant Easement #NoDAPLpic.twitter.com/PtIX6G1wBH

— Ruth Hopkins (@RuthHHopkins) December 4, 2016
The multi-billion dollar pipeline
, which runs close to the Standing Rock Sioux Native American Indian reservation, is 1,900km long and is nearly complete except for the lake section.
Last week hundreds of US military veterans joined activists in a stand-off which at times has seen clashes between police and protesters.
The Sioux have been opposing the pipeline because they feared it would contaminate drinking water and run over sacred burial sites.
The celebrations may however prove to be a short-lived victory, because Republican President-elect Donald Trump has stated that he supports the project.
Trump has had stocks in the Texas-based Energy Transfer Partners, the project's builder, and Phillips 66, which owns one-quarter of the pipeline.
Trump takes over from Democratic President Barack Obama on Jan. 20 and policy experts believe he could reverse the decision.
Astounding news! https://t.co/f7FINqUoym

— George Takei (@GeorgeTakei) December 4, 2016