French flair wins team gold at Alpine world championships
Comments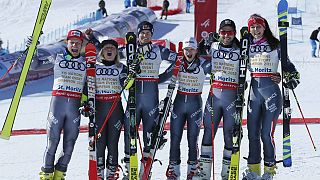 Mathieu Faivre anchored France to gold at the Alpine skiing World Championships in the Team Event at St Moritz.
Faivre won the last race to level the scores at 2-2 after France earlier won a tie-break by 0.08.
The silver medal was the first-ever for outsiders Slovakia in a Nations Team Event.
Sweden took the bronze medal after winning a tie-break 3-1 against hosts Switzerland. The Swiss were looking for their seventh medal of these championships, but were cleanly swept by the Swedes, who are traditionally strong in the Nations Team Event. The bronze was the country's fifth medal in the event. They now have two silver medals and three bronze.
The mixed team event, in its current parallel slalom format with two races on the piste together, will make its Olympic debut at next year's PyeongChang Winter Games in South Korea.