Trump and Trudeau vow to cooperate on security and trade
Comments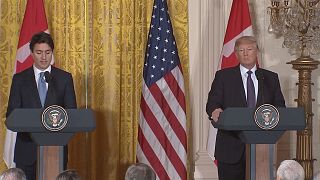 US president Donald Trump and Canada's prime minister Justin Trudeau have vowed to strengthen economic ties between both countries.
It came as the two leaders met for the first time at the White House.
Stressing the historic importance of the relationship between the US and Canada, the two leaders pledged to work closely on trade.
They also promised to cooperate further in the fight against terrorism.
On the thorny issue of immigration, Trudeau said the two men had had a fruitful discussion, adding that Canada and the US would continue to remain good neighbours, even if they do "not agree on everything".
Watch the entire press conference between Justin Trudeau and Donald Trump: