New Zealand: Race to save pilot whales in massive stranding
Comments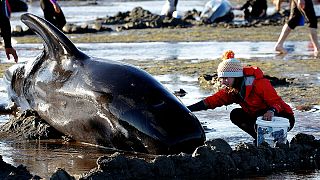 Rescuers have been racing to save scores of pilot whales in New Zealand's Golden Bay.
There has been one of the country's largest recorded strandings, with 300 whales dead.
Volunteers have been trying to send more than a hundred more back out to sea.
Whales often get stuck at Golden Bay, a remote but popular holiday area at the top of New Zealand's south island.
The bay's shallow waters make it difficult for whales to return to deeper water, according to marine life rescue organisation Jonah Watch.
In Golden Bay with Darren Grover, Director of the Jonah Project, and volunteers helping in the rescue of whales stranded at Farewell Spit. pic.twitter.com/VpbhqJWq21

— Barry Coates (@BarryCoates) 10 February 2017