Can Trump win his fight with the judiciary?
Comments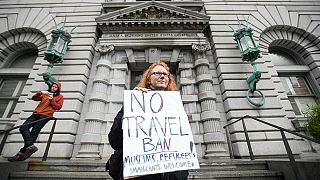 Less than a month in office and Donald Trump is already in a showdown with the judiciary that could go right the way to the Supreme Court.
His executive order banning migrants from seven mainly Muslim countries on security grounds has been suspended by a federal appeals court after it ruled that no evidence was provided to support it.
There was confusion and protests at some US airports two weeks ago after the three month long ban was first announced against all citizens from Iran, Iraq, Somalia, Sudan, Syria, Libya and Yemen.
Trump however hasn't backed down, calling the ruling a political decision.
The three judges at San Francisco appeal court unanimously ruled unanimously, leading Hillary Clinton to tweet simply "three nil."
They wrote that whilst the public has an interest in national security the public also has "an interest in free flow of travel, in avoiding separation of families, and in freedom from discrimination."
The inhabitants of Los Angeles's large Iranian neighbourhood point out that, rather than posing a threat to America, they came to the country as refugees fleeing persecution.
"I hope this will solve the problem and then they remove this situation of the ban on travel to the United States because we all, all of us, we are refugees," said one inhabitant, Mike Amri.
But Donald Trump's reaction has been to doggedly fight on. He tweeted: "See you in court the security of our nation is at stake!"
If President Trump does take it all the way to the Supreme Court and the eight judges there all vote along ideological lines the result would be a tie: four for and four against, and in that scenario the appeal court ruling stands and Trump would lose.
"The president does have a choice. He can continue to fight this, or he can tear up this executive order and start over. I would strongly urge him to consider the latter course of action," Bob Ferguson, Washington State's Attorney General told reporters.
One law professor suggested Trump's belligerence was not very astute.
"I think if they go to the US Supreme Court, they risk getting a serious adverse ruling. I think if you were thinking strategically you wouldn't go up there, but this president doesn't seem to shy away from confronting anybody," said Rory Little, a law professor at the University of California Hastings College of the Law.
There's a further complication: the ninth judge has yet to be replaced since the previous one die and the Senate is delaying their consideration of Trump's preferred candidate.