The families in Aleppo trying to rebuild their lives
Comments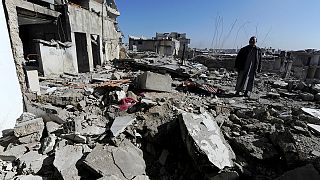 A month and a half after Aleppo was recaptured by the government
whole streets are littered with the debris of war.
Those who survived are faced with eking out a living when almost everything is in short supply: shelter, heating, water, electricity and food.
Before the civil war began Aleppo was the most populated city in Syria.
Much of it fell to the rebels, but it was eventually retaken by the Syrian army after Russian warplanes entered the conflict, bombing rebel positions.
In Kalasa neighbourhood whole streets are under rubble.
Once Al Mouassassi street was full of shops and life, but now only five families and a few other inhabitants live there and they're having to clear up the debris by hand.
Eymad Batash's father, a retired sergeant, had built the house for his family on the street in the 1980s.
"The first mortar hit the cemetery at the beginning of the war. That was when people got scared because it was the first time they heard mortars. Most people left and we followed them a few days later. We stayed for two months then we returned and I stayed here till now. We got used to it," he said.
After much shelling of their neighbourhood his sister Heyam Batash fled with the children and grandchildren to the government area in western Aleppo.
Her family now lives in two rooms on the ground floor of their old home.
"We use wood for heating, we receive aid. We receive bread every day and we live like this. I hope our conditions will be better than this and by God I hope we will gain victory over these terrorists, and the country will return to what it was like before," she said.
The Batash family say they were never involved in politics, but bowed to the regime because several of their relatives had belonged to the army. When one of their cousins joined the rebels, it caused bitter arguments.
It is a story that is familiar to countless families in Syria trying to rebuild their lives.