Politics walks the red carpet in Berlin
Comments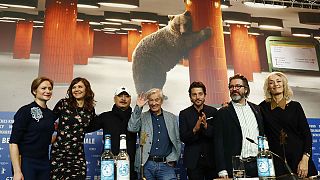 A lot has changed in the world since Berlin's film festival last opened its doors. As the red carpet is rolled out for stars of the screen, concrete barriers are also going up. A reminder of the tragic events in December, when a truck slammed into a Christmas market in the German capital, killing 12 people.
Barriers as a political statement, hang over this year's Berlinale. Donald Trump's travel ban and his international trade decisions are worrying the film industry.
"The film industry is being impacted by sort of the uncertainty, political uncertainty worldwide like pretty well everyone else is. But in particular because the film industry is really a global industry, I mean it really relies on talent and goods and services being able to move easily across borders and that could be under threat now given some of the policies that are coming out in the U.S. under President Donald Trump," explained Scott Roxborough from The Hollywood Reporter.
The festival's director Dieter Kosslick said the programme will describe the 'daily apocalypse' we live through, with many directors using the past to explain the unsettling present.
The opening night film is no exception. Django takes the audience back to 1940s Nazi-occupied Paris, where legendary jazz guitarist Django Reinhardt flees the German forces after he refuses to take part in a tour to counter the influence of what they called 'negro music'.
Our beautiful Jury during the #photocall#Berlinale2017… and now let the show begin!! pic.twitter.com/8ufCr5GuWg

— Berlinale (@berlinale) February 9, 2017