Suicide bomb 'kills 20' outside Afghan Supreme Court in Kabul
Comments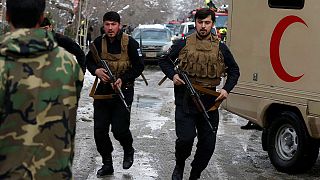 At least 20 people have been killed and almost double that number injured by a bomb outside the Supreme Court in the Afghan capital Kabul.
It's thought a suicide bomber targeted employees leaving their offices at the end of the working day, causing panic as police sealed off the complex.
An interior ministry spokesman said the bomber approached on foot and detonated the device in the car park.
"When I heard a bang I rushed toward the Supreme Court's car park to find my brother who works there, thank God my brother survived, however, the blast took place very close to him. Unfortunately several people were killed and wounded in the area," said a witness, David Khuda.
The injured included at last one child thought to have been in the court's creche, according to information provided by the Health Ministry.
It seems to be the latest in a series of attacks on the judiciary.
The last, which killed nearly 40 people near parliament a month ago, was claimed by the Taliban – which is fighting to oust foreign forces and bring down the US-backed government.
The Supreme Court in Kabul was the target of an attack in June 2013 which left 15 dead and around 40 injured.