Romania: PM 'may fire' Justice Minister over corruption decree 'mishandling'
Comments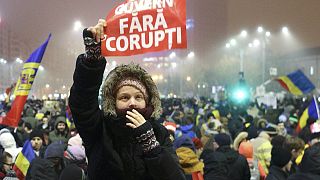 Romania's ruling Social Democrats have appealed for calm after thousands of people rallied in Bucharest to call, once more, for the resignation of the government.
The opposition Liberals and Save Romania Union have also filed a motion of no-confidence in the government, with a vote due on Wednesday (February 8).
Protests have continued to take place, even after the repeal of a controversial corruption decree which, had it been put into action, would have shielded hundreds of officials from justice.
Party leader Liviu Dragnea advised Prime Minister Sorin Grindeanu to consider sacking Justice Minister Florin Iordache for mishandling the decree.
Dragnea, who faces charges of defrauding the state of some 24,000 euros, would have been a beneficiary of the new decree.
Sorin gave reporters his response on Iordache's future.
"I said I'd let two days pass – one to discuss the budget and the other one for the vote of no confidence in the government, because it's normal for Iordache to participate in the talks on the vote and on the Wednesday evening or Thursday he would then make the decision or I would make it for him," he said.
Iordache had said the new decree, which would have come into effect this Friday (February 10), was necessary to bring the law in line with decisions by the Constitutional Court.
It will come under the scrutiny of the Constitutional Court this week for a ruling on its legality.
Parliament must now also approve the withdrawal of the law.