Romania government calls for calm amid confusion over corruption plans
Comments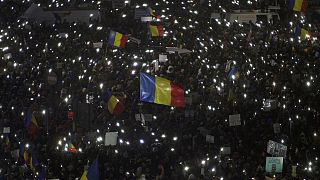 There is confusion in Romania over the government's plans on corruption: first the Justice Minister Florin Iordache spoke on Monday morning of presenting a new, alternative bill after the withdrawal of a decree that caused outrage.
But then his own ministry appeared to contradict him, issuing a statement saying there were no such plans.
The Social Democrat-led government has called for an end to what it called "this tense state", amid ongoing mass protests.
The decree, now rescinded, would have protected dozens of politicians from prosecution by decriminalising lesser corruption offences.
Laura Stefan, anti-corruption coordinator with the Expert Forum Research centre, sees parallels with other nations.
'"There are many attempts in many countries to try to exclude high level officials, mainly politicians, from criminal responsibility. And here we have the beautiful case of (former prime minister) Mr Berlusconi in Italy, where he tried, with all the legal means at his disposal, to introduce immunities for people like him…. I think it's a constant struggle, between those that want corruption to be sanctioned and those who want to get rid of corruption accusations," she said.
Romania's government, which only won election in December, has been stung by the biggest protests since the end of communism – and which continued on Sunday even after the controversial bill was withdrawn.
The decision to do so will require the approval of parliament where the ruling social democrats have a large majority. On Wednesday, the government also faces a no-confidence vote filled by the opposition Liberals and Save Romania Union.