Paris anti-police protests following 'rape' charge
Comments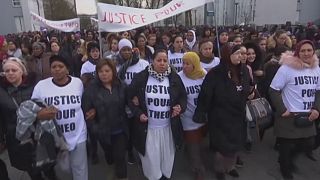 Outraged protesters have marched through the centre of the ethnically diverse Parisian suburb of Aulnay-sous-Bois demanding, "Justice for Theo".
The rally followed the charging of a police officer who allegedly used his baton to rape a 22-year-old man. Three other officers are accused of assault.
The incident is said to have happened during a stop and search operation.
Hundreds march in Paris angered by claims a man suffered a serious sexual assault after being arrested https://t.co/xmDtrRpY8c

— Sky News (@SkyNews) February 6, 2017
The prosecutor's office said the police had stopped a group of about a dozen people after hearing calls of drug dealing sites in the area.
During the operation the officers "attempted to arrest a 22-year-old man", and when he resisted, used tear gas and "one of them used an expandable baton", it added.
But the man, known only as Theo, suffered such serious injuries to his rectum that he needed major emergency surgery, and remains in hospital.
Anger
Abdallah Benjana who is the former deputy mayor of Aulnay-sous-Bois asked what was happening?
"Isn't there enough tension to spark trouble? Unemployment, insecurity, high rents… no idea of a future; you do this to a young man; all of this can only explode."
The four officers have denied the charges but locals say they've had enough:
"It is unacceptable what they (policemen) have done. And every day it is like that, whenever the police come they carry out abusive checks. It is always like that."
Later on Monday evening (Feb 6 ) there were reports of at least three cars being set alight and several arrests having been made.
Force
French police have in the past been accused of using excessive force in poorer neighbourhoods. The death in police custody last summer of a young black man, Adama Traoré, in Beaumont-sur-Oise outside Paris, and the slow reaction of authorities sparked accusations of police violence and a state cover-up. An investigation is ongoing.
In 2005, weeks of riots erupted after two teenagers were electrocuted when they hid in an electricity substation while being chased by police.