Lithuania emphasises NATO strength in the Baltics
Comments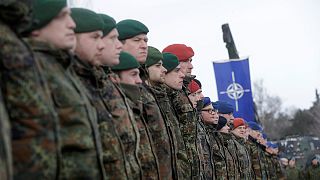 Lithuania's president has said the stationing of more than 1,000 NATO troops around 100 kilometres from its border with Russia sends a clear message about the alliance's collective power in the Baltics.
Following Russian intervention in both Georgia and Ukraine in recent years, NATO decided to build up a presence in the countries bordering Russia and Belarus.
"Never before has Lithuania hosted allied military forces of such size and integrity. It sends a very clear and important message to all: NATO stands strong and united," said President Dalia Grybauskaite.
Germany's Defence Minister, Ursula von der Leyen, sent a similar message.
"Today we have come together as NATO partners to reassure our strong commitment to the future of Lithuania. Never again will Lithuania stand alone."
NATO is expanding its presence in the region to levels not seen since the Cold War.
Germany will lead the troops in Lithuania, while there will be a US-led deployment in Poland, British-led forces in Estonia and Canadian-led troops in Latvia.
US commitment in doubt
The election of President Donald Trump has cast doubt on the commitment of the United States to NATO. He has previously described the allies of the alliance as "very unfair" for not contributing more financially.
However, following a phone call with US Secretary of Defence, James Mattis, Von der Leyen said she felt reassured.
"After what we discussed, I have no doubt about his deep conviction in the importance of NATO and the commitment of the Americans within NATO to what we have agreed," she said from Lithuania's Rukla military base.
She will travel to Washington where she'll attend her first meeting with Mattis on Friday (February 10).
Trump had a phone conversation with NATO Secretary General Jens Stoltenberg on Sunday (February 5), in which the US president agreed to meet alliance leaders in Europe in May.