French Presidential campaign mired in scandal
Comments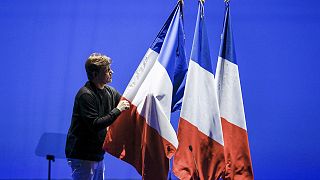 Fillon
Allegations surrounding embattled French right-wing presidential candidate, Francois Fillon continue to roll in. Following the bogus-jobs-scandal dubbed 'Penelope-gate', the satirical newspaper Le Canard Enchainé has reported that Fillon's wife, Penelope, was given a further 45,000 EUR, in severance pay on top of around 850,000 EUR in salary for a job she may never have done.
Their headline reads "Yet more proof that Fillon can encaisse" a word meaning both 'cash in' and 'endure hardship'.
'Le Canard Enchaîné' añade otros 45.000 euros a los emolumentos de Madame Fillon, como indemnización por despido. pic.twitter.com/uHLTmkTlKW

— Javier Albisu (@javieralbisu) February 7, 2017
A defiant Fillon has vowed to continue fighting his campaign despite calls for him to stand down even from within his own ranks in Les Republicains party.
Sarkozy
Meanwhile, Nicolas Sarkozy, the man who was President of France while M. Fillon was Prime Minister has a financial scandal of his own to answer for. A judge has ordered him to stand trial amid allegations that his party illegally falsified accounts to hide around 18 million EUR earmarked for his failed 2012 bid for re-election.
#France: Sarkozy to face trial for alleged illegal financing of expenses in 2012 campaign https://t.co/sX3ZxHepnNpic.twitter.com/EUoTklk1zo

— Miriam Cosic (@miriamcosic) February 7, 2017
Macron
Finally, rumours about independent-centrist, Emmanuel Macron's sexuality have been coming from Russian news agencies in what is widely seen as a smear campaign.
France's Macron dismisses affair as rival Fillon battles scandal https://t.co/wlHJgke5dD via Reuters</a></p>— Stateless in the USA (maelig) February 7, 2017
Wikileaks' Julian Assange however, allegedly hinted to Russian media that he has more "interesting information" on the former banker gleaned from Hillary Clinton's hacked emails.
Polls put Marine Le Pen as favorite for the first round and Macron as outright winner but in such an unpredictable race a lot can change very quickly.
France: Second round of Presidential election, Ifop poll:

Macron: 64% (+1)
Le Pen: 36% (-1)#Sondage#Presidentielle2017#Fillon#Macron

— Europe Elects (@EuropeElects) February 7, 2017
Click here to see more quotes from Francois Fillon