France's new corruption scandals favour Le Pen
Comments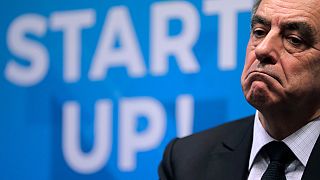 The wife of France's right-wing presidential candidate was paid hundreds of thousands of euros in public money for work she may never have done, but Francois Fillon insists he won't quit the race to the top.
Former French president Nicolas Sarkozy, who is also from Fillon's Republican party, is to go on trial for election financing irregularities.
And a key ally of Sarkozy, the former minister of the interior Claude Guéant, has just been given a one year jail sentence for diverting public money into a secret fund.
These are all political bombshells that are now casting a shadow over the election campaign.
But even before they happened France was rated unusually corrupt: In 2016 Transparency International ranked France far lower than Germany, the UK and Scandinavia in their corruption table.
In fact France has a long history of financial scandals.
Former president Jacques Chirac was given a two year suspended prison sentence for misusing public funds in 2011, and Alain Juppe who was prime minister in the nineties, was convicted of a similar offence committed in 2004.
There has been some progress however after an anti-corruption law was passed in 2013.
It came shortly after Jerome Cahuzac, a former minister responsible for fighting tax corruption was ironically himself convicted of stashing money in secret bank accounts in Switzerland and Singapore.
He was sentenced to 3 years in prison after months of proclaiming he was innocent.
Analysts believe many voters are likely to decide that French politics needs to clean up its act – and all these financial scandals are a gift to Marine Le Pen's National Front.
She has long campaigned on cleaning up the corruption at the heart of mainstream politics, and she's never looked stronger.
And as with Trump's America, many fear that populism may revolutionise French politics in the election just two months away.