EU leaders begin one-day summit in Malta
Comments
By
Euronews
with
Reuters, Amnesty International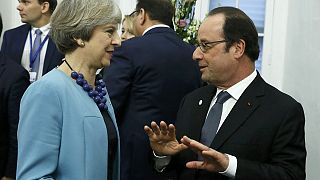 EU leaders are holding a one-day, informal, summit in Malta to discuss migration and the consolidation of Europe once the UK leaves the bloc.
British Prime Minister Theresa May
is to pledge the UK's continued assistance with the migrant crisis, Downing Street says, and to remain a 'reliable partner' after Brexit.
May is expected to brief those attending on her talks with new US President Donald Trump.
His approach to migration appears to be a cause for concern. EU Foreign Policy Chief Federica Mogherini said there were "some differences" between the US and EU on this point.
"This is why in the European Union decisions today you will find an increased support to the IOM and the UNHCR. So the European approach is this: human rights, saving lives, managing the flow with UN agencies. So I guess there are some differences there.
Aid agency Amnesty International has condemned the leaders' planned measures to stem the flow of migrants from the Libyan coast.