Clashes as Israeli soldiers enforce eviction of Amona settlement
Comments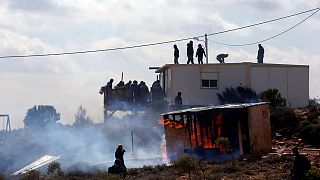 There have been clashes as Israeli security forces began the eviction of more than 300 Jewish settlers from the outpost of Amona in the occupied West Bank.
Israeli media have reported that several people have been wounded and arrested.
Officials began breaking into houses. The police said they would act with restraint to allow families to evacuate peacefully but would not allow anarchists to abuse the situation.
Earlier, soldiers were deployed in and around Amona to stop more settlers. Hundreds of outsiders had made their way to the hilltop outpost to join those who had been told they must leave.
It follows a 2014 Supreme Court ruling that the homes at Amona were built illegally on privately-owned Palestinian land.
The battle over Amona has dragged on for eight years, during which time the community has expanded to 200 children.
In January settlers due to be evicted reneged on a deal with the state to head off a forced evacuation and confrontation with troops.
The evacuation is opposed by local Palestinians. They say as it involves resettling the Jewish community on a nearby hill, it will again damage Palestinian rights.