Deadly wildfires in Chile destroy entire town
Comments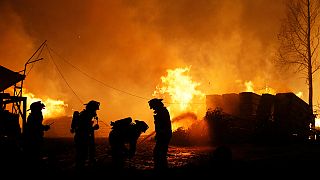 An entire town has been completely destroyed by flames, as the worst wildfires in Chile's modern history continue to consume large swathes of the country.
Some 1200 homes in St Olga, the biggest of several communities in the central Maule region, have been reduced to smouldering ash.
Most of the town's 6000 residents amazingly escaped unharmed, but one death has been confirmed and two people are still missing.
The extent of devastation has shocked many.
''The flames razed everything to the ground. We were fighting the flames with the neighbours for two days, making firewalls all around the area,'' said one man.
Fanned by strong winds, searing temperatures and a prolonged drought, nearly 100 separate fires have been recorded over an area estimated to be about twice the size of New York.
"The fire has destroyed more than 300 hectares, a bird farm, and 25,000 chickens that were ready to breed," one farmer owner said.
Authorities suspect some of the fires were started deliberately. At least 10 people are thought to have been killed by the wildfires, the majority of those firefighters.
International aid has started arriving in Chile. The US and Russia have sent super-tanker aircraft capable of extinguishing the fires, while France, Peru and Mexico have also contributed to the effort.