The Mistress of Westminster meets the Master of the Deal
Comments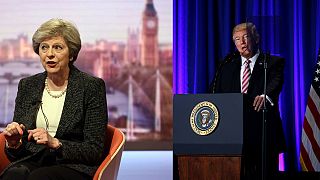 Is there going to be a Donald Trump-Theresa May lovefest on the lines of the famously warm relations between Ronald Reagan and Margaret Thatcher?
The British prime minister becomes the first world leader to meet Trump on Friday, and Downing Street is trumpeting the diplomatic coup.
"I am pleased that I am able to meet President Trump so early in his administration. That is a sign of the strength of the special relationship between the United Kingdom and the United States of America, a special relationship on which he and intend to build. We want to achieve an arrangement that ensures that the interests of the United Kingdom are there, that are put first, and that's what I will be doing," she told the House of Commons before leaving.
But will the pair really see eye-to-eye? After all, Donald Trump has made it clear that the US is finished with doing favours.
"From this day forward, it's going to be only now, America first, america's first," he intoned at his inauguration.
Even if he offers moral support on Brexit, once saying "I think Brexit is going to end up being a great thing", and even telling a confused American audience during his campaign "Call me Mr Brexit", that doesn't mean he will give May an easy ride.
Traditionally Britain and the US are the world's staunchest supporters of free-trade capitalism, supposed EU restrictions on which partially drove Britain's "leave" vote. Keen to have an early trade deal with the US, May may find protectionism and isolation is more on Trump's mind, and the EU has warned London it can talk, but formal bilateral negotiations are not allowed under EU rules.
Trump's desire to disengage America from international engagements if not offered better terms has already been expressed about the American-led NATO military alliance.
"And I said a long time ago that NATO had problems. Number one: it was obsolete because it was designed many many years ago. Number two: the countries weren't paying what they're supposed to pay."
Britain is the European pillar of the alliance, the major budgetary contributor and it provides the battlefield leadership. May says she is certain Trump understands NATO's importance. But over policy towards Russia and Iran there are glaring differences.
"Even America needs close friends and Britain has managed to, partly by luck and partly by stealth, place itself in front of the queue again," says Professor of War Studies John Bew of Kings College London.
Both nations may end up finding themselves isolated on the world stage because of their actions, but instead of that bringing them together they may find their interests and visions of the world have moved on from the harmony of the Reagan-Thatcher years.