Girl, 7, tells Trump: "Help Syria and I'll be your friend"
Comments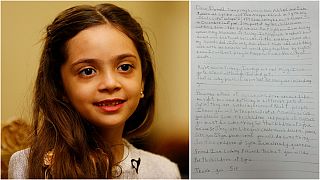 A Syrian girl who became a global star tweeting updates from Aleppo has written an open letter to Donald Trump urging him to help the war-ravaged country.
Bana Alabed, seven, amassed 364,000 followers on Twitter describing daily life in the besieged Syrian city.
Bana, who escaped to Turkey with her family in December, asked the new US president to help her suffering compatriots still in Syria.
She wrote: "Right now in Turkey I can go out and enjoy. I can go to school, although I did not yet. That is why peace is important for everyone, including you.
"However millions of Syrian children are not like me right now and suffering in different parts of Syria.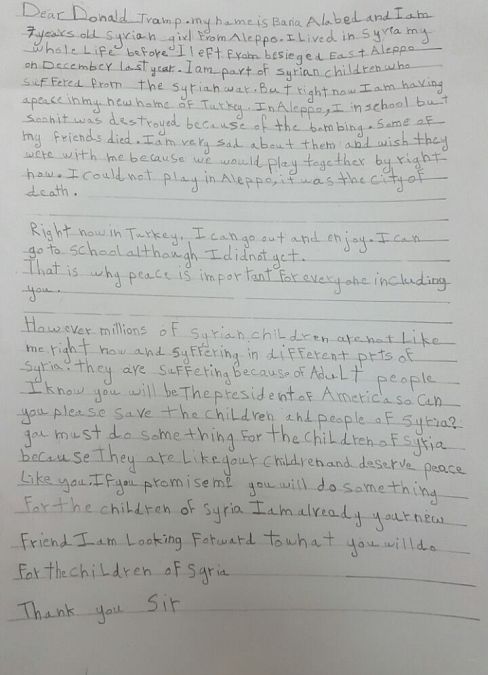 "They are suffering because of adult people.
"If you promise me you will do something for the children of Syria, I am already your new friend."
Her Twitter handle, @AlabedBana, which is managed by her mother, has posted pictures of her playing and shopping for sweets in Turkey.
But she has also posted updates indicating Syrians are still at the forefront of her mind.
"In Aleppo, I was in school but soon it was destroyed because of the bombing," she told Trump in the letter. "Some of my friends died. I am very sad about them and wish they were with me because we would play together right now. I could not play in Aleppo, it was the city of death."
Last month, the young girl and her family were evacuated from the rebel-held eastern part of the city following a government offensive.
They arrived in Turkey, where they have since met President Tayyip Erdogan, who supports rebels fighting Syrian President Bashar al-Assad.
US president Trump's position on Syria is not yet clear, but he has endorsed and praised Russia's president Vladimir Putin, who supports Assad.
On Tuesday, Russia, Turkey and Iran backed a shaky truce between Syria's warring parties.