Syria's tweeting girl, Bana Alabed, speaks about life in Aleppo
Comments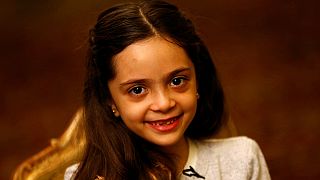 The Syrian girl who gained global attention via Twitter has spoken about life in Aleppo and what motivated her to tell the world her story.
Now safe in Turkey, seven-year old Bana Alabed escaped from the war-ravaged city earlier this week.
"I asked my father to film me near my school. He filmed me and I asked him if it was okay to tweet it. I sent it to Twitter for the sake of Aleppo's children. To help them stay alive. We used Twitter to give the children of Aleppo a voice which could reach the world,'' Bana said.
Bana al-Abed, the seven-year-old who tweeted from Aleppo, is among children evacuated safelyhttps://t.co/hYOP9rbpE2

— The Telegraph (@Telegraph) December 19, 2016
Bana has amassed around 330,000 followers on the social media website since September after she began tweeting updates about the bombings in her neighbourhood in Eastern Aleppo.
#Aleppo: Twitter-Konto von siebenjähriger Bana al-Abed gelöscht | STERN.de https://t.co/qbMuvWNn9i

— Martin Ekdahl (@martinekdahl) December 10, 2016
Her mother, who is an English teacher, helped run the Twitter account.
On Tuesday, Bana and her brother met Turkish President Recep Tayyip Erdogan in Ankara at the presidential palace after he sent a special representative to Syria to collect her and the family.
Very happy to meet with Mr Erdogan. – Bana #Aleppopic.twitter.com/kXqlGGnjgU

— Bana Alabed (@AlabedBana) December 21, 2016