Team USA takes gold at 'Chef Olympics' in France
Comments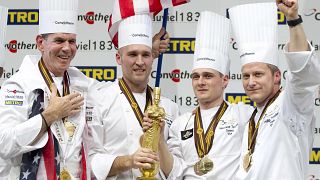 Team USA has taken gold in the Bocuse D'or – the Olympics of the international chef world, taking the title for the first time in the competition's 30 year history.
Like a professional athlete winner Mathew Peters, trained five days a week, up to twelve hours a day for the gastronomic battle.
"It was a long year, actually a couple of years, you know what? It was all worth it," Peters told our reporter.
The winner of the gold #BocusedOr is USApic.twitter.com/P9LIUsLcYm

— Bocuse d'Or Official (@Bocusedor) January 25, 2017
RT BlueCartHQ "RT Bocusedor: Here is the first theme on a tray from team USA ! #bocusedor#bocusedor30pic.twitter.com/6nNk1cXJSP"

— elcongolocho (@elcongolocho) January 25, 2017
The young Americans beat off stiff competition from Nordic chefs, with Norway taking home silver and Iceland which took bronze.
In total twenty-four teams from Europe, Asia and Latin America were battling for the top spot, each had just five hours and 35 minutes to re-imagine Bresse chicken and shellfish, a version of famed French chef and the prize's namesake, Paul Bocuse's classic dish.
His son, Jérôme Bocuse, presided over the jury this year and talked about this year's food trend – all things that sprout from the ground. A new challenge was to create a culinary delight focusing on vegetal – fruits, vegetables, cereals, seeds or legumes.
"What we expect for the next 30 years is just a reflection of what is happening in the world. And today for the 30 year anniversary we have for the first time a plate which is only 100 percent vegetal and of course I think it is a trend all over the world," explained Jérôme Bocuse.
The chefs compete in front of a rowdy crowd of food fans, as our reporter Katanich Doloresz noted:
"In its 30th year, the Bocuse d'Or, in Lyon attracted a huge crowd whose enthusiasm evokes memories of Euro 2016 football championships. Thousands of fans were here to support the 24 teams."