Japan end 19-year wait for home-grown sumo grand champion
Comments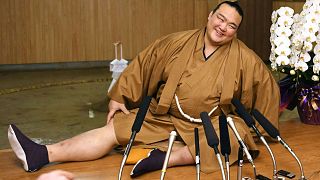 For the first time in 19 years Japan have a Sumo Grand champion.
After finishing runner up on multiple occasions Kisenosato secured the sport's highest rank – known as yokozuna – with his first-ever tournament win on Sunday.
Mongolians have dominated the sport over the past two decades while Hawaiian-born Americans have also held the rank.
At the promotion ceremony the 6ft 2in tall, 175 kg, 30 year old, whose real name is Yutaka Hagiwara said:"I believe that last year was a year of growth for me, and I think that experience and result came out in this year's first tournament."
His victory and status is now one of national pride.
Japan's deputy cabinet secretary Koichi Hagiuda said: "Sumo is a Japanese tradition, and many citizens were waiting in great anticipation for a Japanese-born grand champion. This achievement will definitely lead to bigger excitement within the sumo sport."
As part of the ceremony Kisenosato posed for photos with a sea bream, which in Japan is a symbol of gratitude, and a traditional way to mark victory and happy occasions.