Italy: 5-star Rome Mayor Virginia Raggi in 'abuse of office' probe
Comments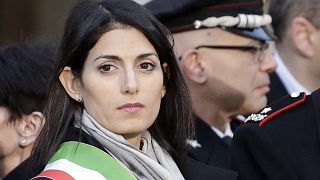 Rome's first female mayor is under investigation over the appointment of the brother of her former right-hand man, who is currently in custody suspected of corruption.
Virginia Raggi, 38, of the anti-establishment 5-Star Movement, is being probed for abuse of office and false testimony.
She said on Facebook that she had received a subpoena related to the nomination as city tourism boss of Renato Marra, the brother of her jailed former aide Raffaele Marra.
Renato Marra was later removed from the position.
"I'm very serene and I have full confidence in the judiciary, as always," she wrote.
Rome Mayor Virginia Raggi receives a summons from city prosecutors over a staff appointment https://t.co/uPOjn6ypNMpic.twitter.com/vIjCCmRSkc

— Bloomberg (@business) 25 janvier 2017
Raggi's woes have made headlines in Italy where 5-Star, the country's largest opposition group, presents itself as squeaky-clean, compared to traditional parties, which have been dogged by corruption for decades.
Raffaele Marra, former head of personnel at city hall, was arrested in December on suspicion of corruption linked to a real estate deal in 2013. He denies any wrongdoing.
Raggi was elected by a landslide last year after pledging to crack down on rampant corruption. But almost from the start her administration was beset by problems.
Nonetheless, opinion polls suggest 5-Star might beat the ruling centre-left Democratic Party (PD) at Italy's next general election, which is due by early 2018.
with Reuters