Martin Schulz, from Bookshops to Berlin?
Comments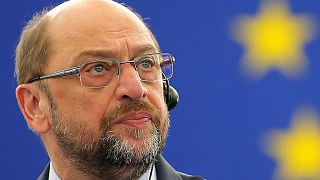 Martin Schulz has been in the European Parliament since 1994. He was born in Hehlrath, near Aachen, in Germany, in 1955.
His professional football dreams as a young man were dashed when he hurt his knee. Then he opened his own bookstore, became a town councillor and then mayor, climbing the rungs of his country's Social Democrat Party.
Schulz became President of the European Parliament in January 2012, carrying on his stated ambition to give the institution increasing influence, as the only body in the EU whose members are directly elected by the people of the EU.
---
Biography: Martin Schulz
Martin Schulz is the current president of the European Parliament
He began his political career when he joined the Social Democratic party at the age of 19
As a youngster he had hoped to become a professional footballer
Schulz is reportedly interested in running for the chancellorship in the upcoming German elections
---
Schulz became the youngest ever elected mayor in the German state of North Rhine-Westphalia, a position he held for 11 years, from 1987 to 1998.
In 1994, he switched to the European scene. Schulz was elected as a member of the European Parliament, where he then became a member of several committees, first of the Subcommittee on Human Rights and then of the Committee on Civil Liberties, Justice and Home Affairs.
In 2000, Schulz took the head of SPD deputies in the European Parliament, before being elected vice-president of Socialist deputies in Parliament.
Then in 2004, he was elected president of the second largest group of the European Parliament.
Schultz tells Euronews that the EU is in a 'dismal state'
As President of the Socialists and Democrats in the European Parliament, Martin Schulz campaigned for social justice and works to promote employment and growth, reform financial markets, combat climate change, campaign for Equality and to build a stronger and more democratic Europe.
In 2012, Martin Schulz was elected President of the European Parliament by 387 votes for a two and a half year term.
In 2014, he was re-elected by 409 votes, becoming the first president in the history of the European Parliament to hold a second term.
---
TImeline: Martin Schulz
Apprentice bookseller (1975-1977).
Worked in various bookshops and publishing houses (1977-1982).
Bookshop owner (1982-1994).
Member,

SPD

Bureau and Federal Executive (since 1999).

SPD

Representative for EU Relations (since 2009).
Municipal councilor, Würselen (since 1984).
Mayor of Würselen (1987-1998).
Member of the European Parliament (since 1994).
Socialist Group coordinator, Subcommittee on Human Rights (1994-1996).
*Socialist Group coordinator, Committee on Civil Liberties and Home Affairs (1996-2000).
Chairman,

SPD

Group, European Parliament (2000-2004).
First Vice-Chairman, Socialist Group (2002-2004).
Chairman Socialist Group (2004-2009).
Chairman S&D Group (since 2009).
President of the European Parliament (since January 2012).
Source: europarl.europa.eu
---
Schulz said his top priority as Commission President would be to create more and better jobs for Europeans. He later expressed concern that Spain's high unemployment could spark a "social explosion" across Europe.
"The demonstrations in Spain show that a social explosion is looming because of the high unemployment rate among young people in Europe," Schulz told the wide-circulation German daily Bild in 2012.
EU collapse 'realistic scenario'
Also in 2012, Schulz said the collapse of the EU was a realistic scenario because member states are reclaiming power and xenophobia is increasing, and calls to reintroduce border controls are on the rise, reported EurActiv.
In May 2016, in an interview with Euronews, Schultz told Euronews that the EU was in a dismal state:
Martin Schulz: "Your description is absolutely right, the European Union is in a dismal state. Forces on the extremes are winning elections and referendums. If we throw into question the essence of the European project, we're playing with the fate of the next generation, because the 21st century is one of global cooperation and competition between entire regions, not between small countries like mine, Germany: what is a population of 80 million compared to 1.4 billion in China? How can we survive alone in the 21st century? Those who claim that we should bring down Europe and re-nationalise are playing with the security and the future of an entire generation."
Watch:Global Conversation with Martin Schulz
At the beginning of his term, Italy's then prime minister Silvio Berlusconi likened Schulz to a Nazi guard.
As speaker of the European Parliament since 2012, Schulz used new powers granted by the 2009 Lisbon Treaty to increase the legislature's role in EU politics and has used the post to raise his profile at home.
Schulz has in recent weeks criticised Turkey over human rights and taken a firm line towards Britain over its pending departure from the EU.
Last week he said he hoped for "rational cooperation" with US President-elect Donald Trump, whom he had previously described as "not only a problem for the EU but also for the whole world."
Schulz's political future is now playing on a very different field: that of Germany.