The Gambia awaits new era after ex-ruler Jammeh flies into exile
Comments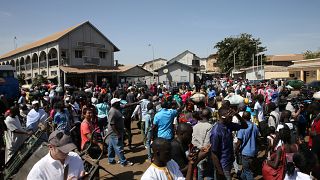 A new political era awaits The Gambia hours after the country's authoritarian ruler Yahya Jammeh flew into exile.
Pressure from neighbouring West African states finally forced Jammeh to step down, after his election defeat to Adama Barrow in December.
Despite a whirlwind 24 hours, life in the capital Banjul appeared normal on Sunday.
"Today I'm a happy man because President Jammeh has gone. Right now everybody (has) calmed down. We are happy today, you know," one man said.
Another man also expressed joy at Jammeh's departure.
"The situation in Gambia was like being in jail. Now, he's left us there is freedom. Under Jammeh we have suffered."
The unpredictable Jammeh departed for Equatorial Guinea late on Saturday.
In power for 22 years, Jammeh went on to challenge December's electoral result despite initially conceding defeat.
His successor Barrow, who remains in Senegal, has said he will return to The Gambia soon to take charge.