Gambia's former leader Yahya Jammeh flies into exile
Comments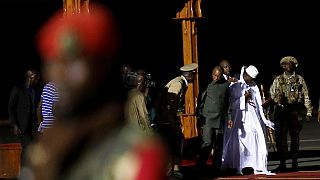 Gambia's former leader Yahya Jammeh waved goodbye to tearful supporters as he boarded a plane taking him into exile in Equatorial Guinea.
"Of course I have to cry for losing somebody I love, that is why I'm sad. But I'm happy he came into this country without bloodshed, he went also without bloodshed. I think that's all that we should be grateful for," said one soldier at the airport farewell.
Jammeh stepped down under pressure from West African countries to accept his defeat in a December election to Adama Barrow. It ends his 22 year-rule of the country which many saw was a ruthless dictatorship. He took power in a coup in 1994, and his government is accused of torturing and killing opponents.
People celebrate in the streets of Banjul after hearing of departure of former Gambian leader Yahya Jammeh pic.twitter.com/gl0u8HIgkX

—

AFP

news agency (@AFP) January 21, 2017
His departure ends weeks of tensions which saw a tense stand-off when troops from Senegal and Nigeria entered the country, and clears the way for Barrow to return from Senegal, where he was sworn in as leader of The Gambia on Thursday.
He has vowed to set up a truth and reconciliation committee to investigate human rights abuses during Jammeh's regime.