The Gambia's President Barrow arrives home to take office
Comments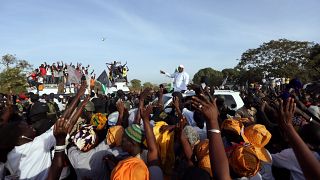 The Gambia's new President Adama Barrow has arrived home to a warm welcome after his predecessor fled into exile.
Hundreds of diplomats and officials greeted him at the airport while thousands of supporters lined the streets of the capital Banjul.
The West African ECOWAS regional force was on hand having put pressure on Yahya Jammeh who had refused to step down after Barrow's election win in December.
The outcome is being celebrated as a moment of democratic hope for Africa, although The Gambia's tiny size is said to have helped.
The president, a former estate agent, took to twitter to mark his arrival home.
His predecessor's refusal to go forced Barrow's inauguration to take place at the Gambian Embassy in neighbouring Senegal.
Barrow has asked the West African force to stay in Gambia for another six months, according to the UN's special representative for the region.
Jammeh ruled for 22 years in increasingly repressive fashion in The Gambia, marked by allegations of torture and assassinations.
The UN has promised help in investigating human rights abuses.
The ex-leader took off for Equatorial Guinea a few days ago after regional leaders helped organise the deal for him to seek exile in the country.