Senegalese troops cross border into Gambia as crisis intensifies
Comments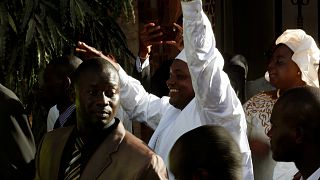 West African troops have crossed from Senegal into Gambia to ensure Adama Barrow assumes power as the country's new president, according to the Senegalese army.
In a statement the military said that troops had begun striking as part of "Operation Restore Democracy".
West African leaders have vowed to remove Yahya Jammeh by force, as the former president – who has the backing of parliament – has refused to accept the election result and step down.
Hours earlier, Adama Barrow was sworn in as president of Gambia, not in his own country but at its embassy in neighbouring Senegal.
Congratulations to His.Excellency Adama Barrow President of the Republic of The #Gambiapic.twitter.com/U1eqBheHPU

— The Gambia Voice (@TheGambiaVoice) January 19, 2017
"This is a day no Gambian will ever forget in a lifetime," Barrow said after the ceremony, which was broadcast live on Senegalese television.
He appealed to the African Union and the UN to support the government and people of Gambia to restore their sovereignty and legitimacy.
Houses packed full in #Gambia watching inauguration. The feeling is indescribable #GambiaHasDecidedpic.twitter.com/RDJQb2DC0A

— GambiaHasDecided (@GambiaDecided) January 19, 2017
Yahya Jammeh, the longtime leader, lost a December election but has since failed to step down despite international pressure and the threat of military intervention.
The ECOWAS regional force had already paved the way for military action on Wednesday, its head saying if no political solution was found, they would take action at midnight in accordance with the orders of the heads of state.
Nigeria, part of the ECOWAS force, has moved combat troops and aircraft to Senegal, ready to head to Gambia.
The United Nations Security Council has backed the West African efforts to ensure the transition of power, as long as political means are tried first.
Yahya Jammeh initially conceded defeat to Barrow before back-tracking, saying the vote was flawed. Efforts to persuade him to leave office have failed.
On Tuesday he declared a state of emergency just two days before he was supposed to cede power.