Italy: hotel rescuers find no sign of life after avalanche
Comments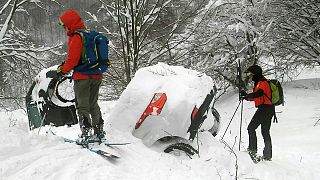 Impossible to reach by car, emergency workers have been trying to access the Hotel Rigopiano by alternative methods.
Some 35 rescuers together with dogs were flown in by helicopter on Thursday morning to join Alpine police teams who had skied in overnight. The skiers only managed to arrive at 4.30 a.m. after making it through a blizzard.
Italian media said three bodies had been retrieved from the site, though rescue workers declined to comment on the reports. They did say they had yet to find any sign of life.
Horror stories have been emerging about what happened as a huge avalanche swallowed up the four-star hotel in the Gran Sasso mountain range. It came after several strong earthquakes struck the Abruzzo region of central Italy.
Quintino Marcella described to Italian media how his friend, Giampiero Parete, had phoned him in a panic.
"Last night at 5.45 pm, he calls me, he says: 'Listen, help, help! Call everyone because the situation is serious, and the hotel is no longer there."
His friend had come outside to fetch something from his car. It saved his life. As the avalanche struck he managed to free himself and took refuge in his car. But his wife and children remain unaccounted for, presumed to be buried inside the building.
Italian media said he had been on holiday with his family.
Tullio Spina, Director of the Reanimation Service at Pescara Hospital where the survivor is being treated, said: "The patient is doing well, he has hypothermia, we are caring for him, we've carried out tests, he is awake, conscious, we've already 'warmed him up', for the patient the prognosis is good."
Before and after photos of the #HotelRigopiano in #Abruzzo, torn from its foundations and decimated by a massive avalanche today. #Farindolapic.twitter.com/uGKoSvXsAN

— Eric J. Lyman (@EricJLyman) January 19, 2017
Snow drifts of up to five metres mean progress is slow for the snow ploughs on the mountain roads.
It's now over 24 hours since the avalanche engulfed the hotel.
Antonio Crocetta, a member of the Alpine Rescue squad who was on the scene, said they had been digging and looking for people.
"The hotel is almost completely destroyed. We've called out but we've heard no replies, no voices," he told Reuters.
Let us pray for the poor people killed or lost in the avalanche in Italy. May Mary our Mother pray for God's blessing on the rescue workers.

— Bishop Philip Egan (@BishopEgan) January 19, 2017