Italy earthquakes: 'the situation is critical', geologist tells euronews
Comments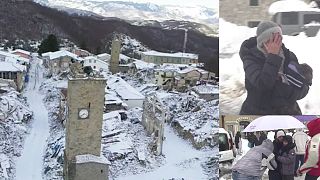 Authorities in snowbound central Italy are appealing for help after four strong earthquakes hit the same region battered by devastating and deadly tremors starting last August.
No serious damage or injuries have been reported, but the wintry weather is preventing rescue workers from reaching some of those in need of help.
Paolo Messina, the director of the Geology Institute at Italy's National Research Council, gave euronews an insight into the situation.
"The fault line that shifted last year is not the same as the one provoking today's tremors. But, they are very close to one another. There's nothing unusual going on, compared with what's happened previously, but these 'quakes cause damage and generate worries among local residents. These are exacerbated by the adverse weather conditions. The situation is critical in the area of the 'quakes.
"In this situation, the first priority is to rescue the people, but its proving very difficult because there are a lot of isolated villages, some with two metres of snowfall, which makes it hard to get there. So we are using helicopters.
"I'm sure that in the coming hours the local population will be moved to warmth and safety, given that the weather conditions are extremely harsh."
Eyewitnesses say the tremors – the largest of which measured magnitude 5.7 – were felt around 100 kilometres away in Rome, prompting the precautionary evacuation of schools and the metro system.