'Europe must do more to help refugees' according to the UNHCR
Comments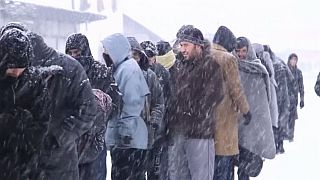 "Europe must do more to help refugees and migrants, dying of cold," according to the UNHCR.
As Europe is experiencing some of the lowest temperatures in decades, it is calling on European governments to save refugees, instead of rejecting them.
The UN's refugee agency has reported several deaths resulting from the harsh conditions, as migrants try to enter or travel across Europe.
Images of migrants queuing for food in snowy Belgrade have made many people recall scenes from WWII.
In Greece and Serbia, hundreds of people are living unheated tents or sleeping rough on unofficial sites.
Under these conditions, children are particularly prone to respiratory illnesses, says UNICEF.
In addition to all this, some refugees and migrants say police have subjected them to violence or that they have had their clothes confiscated.