Record for hottest year broken once more in 2016
Comments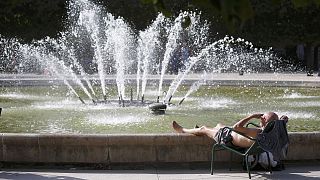 2016 was the hottest year on record – that is according to data compiled by NASA and the World Meteorological Organisation.
It is the third year in a row that temperatures have hit a record high creeping closer to a ceiling set by the 2015 Paris climate change deal.
Average global surface temperatures in 2016 were 0.83 degree Celsius above a long-term average of 14 degrees Celsius from 1961-1990, according to the UN -affiliated World Meteorological Organisation (WMO) based in Geneva
Scientists say the El Niño weather phenomenon played a role, but the main factor was human emissions of CO2.
The NASA findings were announced by environmentalist and former US Vice President Al Gore at the World Economic Forum in Davos.
2016 was the hottest year on record: confirmed by NASA</a> & <a href="https://twitter.com/NOAA">NOAA

— Al Gore (@algore) January 18, 2017
Greenpeace Executive Director Jennifer Morgan was in Davos and called for urgent action:
"We haven't seen this level of temperature rise for 115,000 years. The urgency of action is so present. So our reaction at Greenpeace is, it's time for business to put it at the centre. For government to take action and to listen to people who want a different kind of a future."
The news comes just days before Donald Trump becomes president who is is a noted global warming sceptic.
The concept of global warming was created by and for the Chinese in order to make U.S. manufacturing non-competitive.

— Donald J. Trump (@realDonaldTrump) November 6, 2012
But his pick to lead the US Environmental Protection Agency, Scott Pruitt seemed to disagree when questioned by Senator Bernie Sanders at his Congressional confirmation hearing:
"You said that Mr. Trump was wrong in suggesting, in stating over and over again, that climate change was a – quote unquote – a hoax. Is that in fact the case?" asked Sanders. "That is correct Senator," replied Scott Pruitt.
Pruitt is considered a contentious choice to lead the EPA with his strong links to the country's energy industry. He has also expressed doubts about the science behind global climate change.
Along with Trump's expressed intention of scrapping many of the regulations President Obama has introduced limiting carbon emissions, there are concerns that under Trump, political support for climate action might fade.
In contrast, Barack Obama's outgoing administration this week donated $500m to the UN's Green Climate Fund.