Breivik human rights violation ruling: appeal reaches final stages
Comments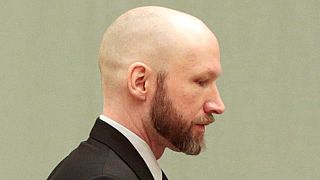 The Norwegian government is presenting its closing statement in an appeal involving mass murderer, Anders Breivik.
It is aiming to overturn a court ruling that Norway violated Breivik's human rights by holding him in isolation in prison.
Attorney General Frederik Sejerstad defended the measures, saying they were fully justified for a right-wing extremist who, he added, "is proud of what he has done."
Breivik, 37, is serving Norway's longest sentence – 21 years with the possibility of extension – for a killing rampage in July 2011.
Eight people died after he set off a car bomb outside the prime minister's office in Oslo. He then gunned down 69 others – many of them teenagers – on an island near the capital.
He has expressed no remorse and had previously told a court that his solitary confinement had made him even more radical in his neo-Nazi beliefs.
The hearings are expected to end on Wednesday (January 18), with a ruling expected in February, 2017.
Breivik pulls Nazi salute in court https://t.co/9PKNrxs1hVpic.twitter.com/CSaycZyP7t

— euronews (@euronews) January 10, 2017