[Watch]: Chinese highway pile-up involving 19 cars
Comments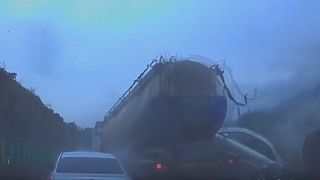 Six people were killed and 16 others injured in a 19-car pileup on a highway in south China's Guangdong Province on Saturday, according to the local traffic authorities.
The incident occured when a cement tanker lost control at around 09:19 in Qingyuan City, along the highway that connects Guangdong with central China's Hunan Province. Seven vehicles caught fire in the accident.
Five of the 16 injured people are in stable condition but still under observation, while the remaining 11 have been discharged from hospital.
Authorities are investigating to find the cause of the accident.