War of words as Kosovo stops 'provocative' Serbian train
Comments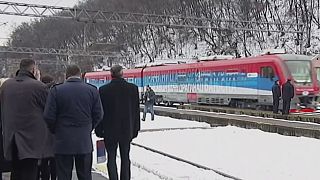 Kosovo police have stopped a Serbian train described as provocative from entering the Balkan country.
The words "Kosovo is Serbia" were painted down the side in multiple languages; on board was more nationalist material.
Serbia doesn't recognise the independence of its former province. The row has escalated tensions.
"Enough is enough", said Kosovo's prime minister Hashim Thaci who ordered troops to the border to stop the train in its tracks.
In a post on Facebook he said Serbia's nationalist banners were a provocation and Serbian officials on board had no permission to enter Kosovo.
In Belgrade Serbian Prime Minister Aleksandar Vucic said he called the train back home.
He claimed Kosovo was ready to blow up the track.
"They sent special armed units to Jarinje to arrest the driver and the passengers – as we said at the outset, just to score some political victory. But then we realised they wanted to provoke a large-scale conflict," Vucic told a news conference.
Serbia wants to set up a regular service to Kosovska Mitrovica, its enclave in northern Kosovo where tens of thousands of Serbs don't recognise Pristina as their capital.
The train was decorated with images of Serbian cultural and religious heritage in Kosovo.
Serbia's president and prime minister have called internal security meetings next week. Kosovo has accused Serbia of threatening regional stability and urged the European Union to intervene.
Both countries are in talks on normalising relations, a precondition for progress towards membership of the EU.
The row has exposed that divisions still run deep.