Kosovo angered by Serbia's 'provocative' train
Comments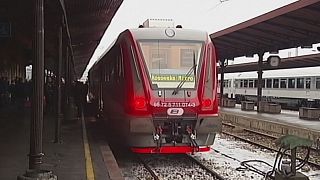 Serbian authorities have sent a promotional train to north Kosovo for the first time in 18 years, a move deemed a 'serious provocation' by Pristina.
The Russian-made train was set en route painted in Serbian colours with the message 'Kosovo is Serbia' written in 21 languages on its exterior.
Belgrade played down any controversy saying, "In a political sense, this train is no novelty, because it is only an extension of a railway line which has been functioning for 10 years now," said Marko Djuric, Serbian Government Office for Kosovo and Metohija.
Serbia wants to set up a regular service to Serbian enclave Kosovska Mitrovica. However, Kosovo has accused Serbia of threatening regional stability and urged the EU to intervene.
Serbia and Kosovo, a former province which declared independence from Belgrade in 2008, having been involved in EU-led talks to normalise relations since 2011.