Mass rally calls for end to Spain's dispersion policy for ETA prisoners
Comments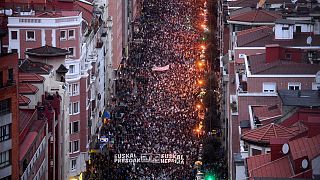 Tens of thousands of people rallied in the Basque city of Bilbao to demand that jailed members of ETA serve out their sentences closer to home.
More than 300 members of the Basque militant separatist group are housed in jails across Spain and France to restrict contacts between them.
ETA killed more than 800 people in its forty year campaign to create a Basque homeland in northern Spain, a legacy which weighs heavily on the victims, however, some were willing to forgive and forget.
Rosa Rodero, a widow of an ETA victim took part in the demo, and said "after five years of ETA peace, I am asking that those prisoners are given their legal rights."
The group announced a ceasefire in 2011, however, Spain refuses to change its dispersion policy until ETA fully disarms and its members ask for pardons.