Foreign and interior ministers replaced in Jordan
Comments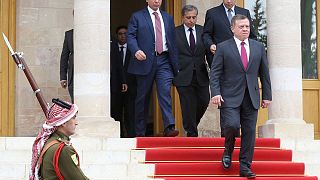 Jordan's King Abdullah has reshuffled his cabinet but kept on Hani Mulki as Prime Minister.
Half a dozen new ministers have been sworn in, with changes in the foreign affairs, interior and education portfolios.
Jordan has boosted its role in the US-led battle against ISIL militants, while at the same time is looking for ways to reform its sluggish economy.
The new ministers are:
State Minister for Prime Ministry Affairs, Mamdouh Saleh Hamad Al Abbadi
Minister of the Interior, Ghalib Salameh Saleh Al Zubi
Minister of Foreign and Expatriate Affairs, Ayman Hussein Abdullah Al Safadi
State Minister for Legal Affairs, Bishir Hani Khasawneh
Minister of Education, Omar Ahmad Munif Al Razzaz
Minister of Youth, Haditha Jamal Haditha Al Khreisha