Obama surprises Biden with presidential medal of freedom
Comments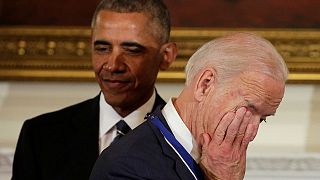 Before he leaves office, Obama had one last surprise for his vice-president. The US commander-in-chief gave an emotional send off to Joe Biden, with a very special award.
Billed as a farewell, an unsuspecting Biden broke down as Obama announced, "I am pleased to award our nation's highest civilian honour: the presidential medal of freedom."
"This also gives the internet one last chance to talk about our Bromance," Obama joked.
We are all Mitra watching Joe Biden's farewell. pic.twitter.com/XI4iJryuq5

— Full Frontal (@FullFrontalSamB) January 13, 2017
The medal was awarded with distinction, a special level previously reserved for recipients like Pope John Paul II and Neil Armstrong.
The vice president was caught off guard, but thanked Obama saying the award was more than he deserved, adding, "I was part of a journey of a remarkable man who did remarkable things for this country."
"To know Joe Biden is to know love without pretense, service without self-regard, and to live life fully." —POTUS</a> honoring <a href="https://twitter.com/VP">VPpic.twitter.com/ayKhKh4GWS

— The White House (@WhiteHouse) January 13, 2017
Barack Obama has awarded 123 presidential medals, the largest number from a single president, notably honouring the arts and sports.