Syria ceasefire 'largely holding' but 'exceptional' strikes kill dozens - reports
Comments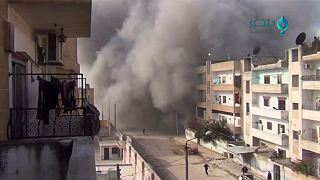 The United Nations says a nationwide ceasefire in Syria is largely holding, but there are some exceptions.
Its envoy to Syria, Staffan de Mistura, said food is running out in some besieged areas because humanitarian aid is still not able to get through.
Idlin
In the rebel stronghold of Idlib province, at least 22 jihadist fighters have died in 24 hours of air strikes, the Syrian Observatory for Human Rights monitoring group said on Thursday (January 12).
The attacks were reportedly carried out by both Syrian government aircraft and those of the US-led coalition. The latter denies targeting the area between January 10 and 11.
Babka
In Babka, a village near Aleppo, children are said to be among at least nine people killed when their family home was hit. It is not clear who carried out the alleged attack.
Al Bab
North of Aleppo, in al Bab, the Turkish Army is fighting ISIL militants for control of the immense city.
Peace talks and sanctions
Turkey and Russia brokered the truce in Syria. They are planning to hold peace talks in the Kazakh capital on January 23. The UN says it understands it will be invited, although official invitations have not yet been issued.
Mistura said the aim of the discussions is to further deepen the halt in hostilities and form "some type of political broad lines," which could help in peace talks he has convened in Geneva on February 8.
The US is not expected at the Astana talks. According to a statement from the US Treasury, Washington has slapped 18 Syrian officials with sanctions related to the reported use of industrial chlorine as a weapon against civilians.
The embargoes also cover the Syrian Air Force, Air Defence Forces, Army, Navy and Republican Guard, as well as the Organization for Technological Industries. Any assets they may have in the US will be frozen and US citizens are banned from carrying out transactions with those affected.