Brawl erupts in Turkish parliament during debate on constitutional reform
Comments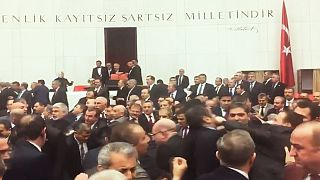 Lawmakers in Turkey's parliament engaged in scuffles yesterday, January 11, as a heated debate over proposals to expand the executive powers of President Erdogan escalated.
Members of the ruling AKP and opposition CHP parties engaged in the confrontation which saw them throwing punches and shoving one another on the floor Ankara's Grand National Assembly of Turkey, according to Reuters.
The proposed constitutional reform bill would give Erdogan the power to hire and fire government ministers as well as taking back the leadership of the ruling party and governing until 2029.