Pakistan fires first nuclear cruise missile from submarine
Comments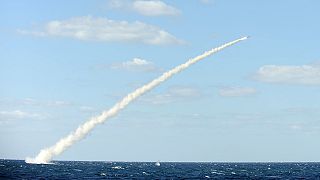 Pakistan has fired its first submarine launched cruise missile.
The country's military said the nuclear-capable Babur 3 rocket, which has a range of about 450 kilometres and can deliver various payloads, was fired from an undisclosed location in the Indian Ocean.
Praising the launch, Pakistan's Prime Minister Nawaz Sharif said the test showed the nation's technological progress and self-reliance.
The show of force by Islamabad comes amid heightened tensions on the de facto border with neighbouring India.
Hours before the test was announced New Delhi said three civilians had been killed in an attack after militants crossed the line of control between the two nations in Kashmir.
The incident was the latest in a spate of tit-for-tat strikes across the border since 19 Indian troops were killed in the region in September.