Mixed swimming obligatory for Muslim in Switzerland
Comments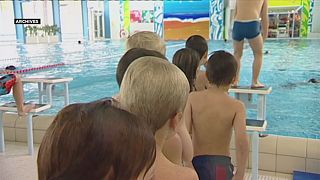 The European Court of Human Rights has ruled that Muslim girls in Switzerland must attend mixed school swimming lessons.
The decision comes after a Muslim couple refused on religious grounds to allow their two young daughters to take part and were fined 13-hundred euros.
The head of Basel city council, Christoph Eymann, welcomed the outcome: "This decision means that we are on the right track, that we can proceed as we did. We are in constant dialogue with religious associations and open to suggestions, but this decision makes clear that elementary school has the same principles for everybody.
It's the first time the court has intervened on the specific issue of religious beliefs versus school rules in a sport where body exposure and changing are obligatory.