Manila mania: why millions hit the streets for the Black Nazarene in The Philippines
Comments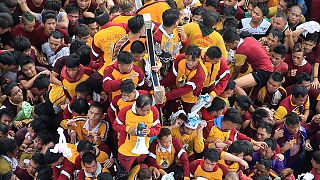 Huge crowds have come out on the streets of the Philippine capital Manila to honour an iconic statue known as the Black Nazarene.
Here we explain the statue's history and why it attracts such fierce devotion.
What happens?
On January 9 each year, millions of people gather to celebrate the statue, including a spectacular religious procession which sees devotees carry a replica of the Black Nazarene across Manila.
What is the Black Nazarene?
It's a life-sized statue of Jesus Christ holding his cross, normally housed in Quiapo Church in Manila.
What do devotees believe?
The statue has become "an emblem of passion, struggle and faith" for Catholics in The Philippines, according to the Catholic News Agency.
Devotees believe the statue has mystical powers that can atone for sins and cure illnesses.
The Philippines is home to around 80 million Catholics, or 80 percent of the population, a legacy of its time as a Spanish colony.
What is the Black Nazarene's story?
It is thought the statue was made in Mexico before being transported to The Philippines in 1606.
Nazarene's dark colour is attributed to a fire on the ship that was carrying it to Manila.
This episode – and the fact it has survived other fires, earthquakes, floods and bombings – has helped to reinforce its mystical powers among devotees.
What happens during the procession?
The procession, which dates from the 17th century, is known as the Translacion.
It sees the statue transported on a chariot – it's pulled by ropes and pushed from behind – through the streets of Manilla.
Some devotees try to get as close as possible, often clambering on their neighbour's shoulders to try and touch the statue.
Others follow the 6.5-kilometre procession route in bare feet, seen as a sign of regret for sins committed.
Photo gallery
Hover over the photo and click the arrows to explore a selection of images from the procession.
What's happening this year?
Up to 18 million people are expected to take part in this year's procession and the festivities surrounding it.
There are fears it could be the target of a terrorist attack.
It comes after Philippine security forces killed a foreign national and his female companion on Saturday (January 7), who were suspected of being connected to a militant group supporting ISIL.