Bawling babies get breastfed in the Sistine Chapel
Comments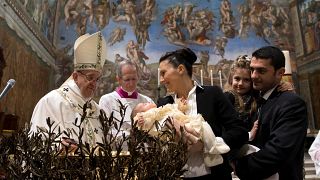 Pope Francis has baptised 28 infants in the Sistine Chapel, telling their mothers to feel free to breastfeed them if they cried.
When the 15 boys and 13 girls began crying, the pontiff joked "the concert has begun".
Baptism is the sacrament at which infants or converts are initiated into the Christian faith.
The Sistine Chapel, which Michelangelo painted in the 16th century, is the chamber where cardinals elect popes in secret conclaves.