Suspect charged in Florida airport shooting
Comments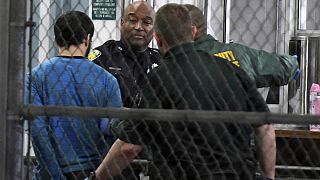 The suspect in the deadly Florida airport shooting has now been charged and if convicted could face the death penalty.
According to court papers, Esteban Santiago, 26, told agents he planned the attack.
It has emerged that police confiscated but later returned a handgun to the Iraq war veteran after he was found not to be mentally ill, despite reports he had told the FBI about hearing voices urging him to join ISIL.
Police say gun was returned to Florida airport shooting suspect last year https://t.co/dLyodSRZiY

— Reuters Top News (@Reuters) 7 janvier 2017
At his home in Puerto Rico, Santiago's brother Bryan blamed authorities for not getting his sibling the help he needed.
"They knew ahead of time," he said.
"They can't say that this is a person who overnight committed an act. No, they already knew about the thoughts he was having. That angers me."
He also wanted it known that his brother was never radicalised.
"He was never a Muslim. I want that to be clear. Because they are saying on the Internet that he got radicalised and stuff like that. No, he never got radicalised. He has never belonged to an Islamist movement."
Santiago, who had travelled from his home in Alaska to Florida, is accused of killing five people and wounding six in a gun rampage at the baggage reclaim area of Fort Lauderdale Airport on Friday.
#BREAKING Florida airport shooting suspect faces federal murder charges, potential death penalty https://t.co/HzU09R82Kh

— USA TODAY (@USATODAY) 8 janvier 2017
While his mental health is being looked at, investigators say they have not ruled out terrorism as a motive and that Santiago's recent travel is being reviewed.
Federal prosecutors have charged him with carrying out violence at an airport, causing serious bodily injury, using a firearm during a crime of violence and causing death to a person through the use of a firearm, the US Department of Justice said in a statement.
Santiago will appear in court in Fort Lauderdale on Monday.
with Reuters