Amnesty urges Slovenian MPs to reject new powers to exclude migrants
Comments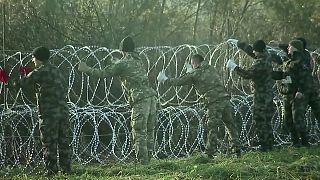 Amnesty International has criticised Slovenia over the government's approval this week of a move enabling the country's borders to be sealed to illegal migrants for a limited period if deemed necessary.
Over six months last winter about half a million people crossed Slovenia heading for other Western European destinations until several nations closed the main Balkan migration route.
"Let me underline that we propose a measure to be temporary in nature and will be used only in the event that the migration conditions have deteriorated to such an extent as to threaten public order and internal security," the Interior Minister Vesna Gyorkos Znidar told a news conference on Thursday.
Government adopted new measures to lower security risks https://t.co/kxtEdABALVpic.twitter.com/8sLAB6RWPr

— Slovenian Government (@govSlovenia) January 5, 2017
The changes are expected to be ratified, but Amnesty called on the Slovenian parliament to reject the amendments which it said would breach international law.
The human rights group said refugees and asylum seekers would be denied protections to which they were legally entitled.
A new law from the Slovenian government would place already traumatized ##asylumseekers at even greater risk. https://t.co/S2PLYeYvw9pic.twitter.com/tSUsviVgpx

— Amnesty EU (@AmnestyEU) January 6, 2017
Slovenia's government says the number of asylum requests has risen five fold in a year.
The interior minister said recently that a wire fence put up on the Croatian border at the height of the migration crisis should remain in place – even though Slovenia's president had reportedly suggested it could be removed.
Slovenia toughens law to prevent another influx of migrants EurActiv</a> <a href="https://t.co/xe0hl1N4Eg">https://t.co/xe0hl1N4Eg</a></p>&mdash; Georgi Gotev (GeorgiGotev) January 6, 2017