Trump slams 'Russian hacking' allegations as 'political witch hunt'
Comments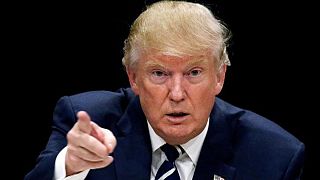 US President-elect Donald Trump has dismissed a controversy over alleged Russian hacking during the 2016 US election campaign as a "political witch hunt," the New York Times reported on Friday (January 6) before US intelligence agencies were to brief him on the matter.
The briefing coincided with deep tension between US intelligence agencies and Republican Trump, who has disparaged their conclusions that Russia staged cyber attacks to interfere in the election by hacking Democratic Party institutions and campaign staff of his opponent Hillary Clinton.
'Potential Russian interference'
Clinton had denounced the leak of Democratic National Committee (DNC) emails in September, during her election campaign. Since then, the scandal has only grown. Clinton had pointed the finger of blame at Russia.
"The fact that our intelligence professionals are now studying this and taking it seriously raises some, grave questions about potential Russian interference with our electoral process," Clinton told reporters.
One month before the election, the Obama administration had formally accused Russia of cyberattacks on the DNC to influence the vote. The hackers allegedly passed the data to Wikileaks.
Moscow has repeatedly denied any involvement in cyberattacks.
President-elect Donald Trump has questioned US intelligence agencies' allegations of so-called Russian hacking.
Trump tweeted a quote from a Fox News interview with Assange during which he denied that Russia was the source of leaked e-mails.
"FoxNews</a>: Julian Assange on U.S. media coverage: "It's very dishonest." <a href="https://twitter.com/hashtag/Hannity?src=hash">#Hannity</a> <a href="https://t.co/ADcPRQifH9">pic.twitter.com/ADcPRQifH9</a>" More dishonest than anyone knows</p>&mdash; Donald J. Trump (realDonaldTrump) January 4, 2017
---
Julian Assange said "a 14 year old could have hacked Podesta" – why was DNC so careless? Also said Russians did not give him the info!

— Donald J. Trump (@realDonaldTrump) January 4, 2017
Despite dismissals from the president-elect about the findings of a congressional hearing, he was told by intelligence officials that Russian cyber attacks pose a so-called major threat to the United States.
"Russia has clearly assumed an even more aggressive cyber posture by increasing cyber espionage operations, leaking data stolen from these operations, and targeting critical infrastructure systems," said Clapper.
President Obama last week ordered the expulsion of 35 Russian diplomats and imposed sanctions on two Russian intelligence agencies he said were involved in hacking US political groups.
Commenting on the new sanctions and related to the so-called Russian hacking, the Russian president's press secretary Dmitry Peskov said they are a display of unpredictability and aggression.
---
---
If Obama bff Clapper had a smoking gun on Russia hacking he would be waving it in front of every camera not repeating stale talking points

— Jack Posobiec (@JackPosobiec) January 5, 2017
Just now at "hacking" US Senate hearing: James Clapper 'my finger prints were on the" WMD report for Iraq. pic.twitter.com/GGev1ki8nm

— WikiLeaks (@wikileaks) January 5, 2017
Shocker! https://t.co/752wPlkDiR

— Breitbart News (@BreitbartNews) January 6, 2017